There's something about a bad boy that appeals to a lot of people... whether it's a friend or older brother that a younger boy would like to be like... and in school I felt the girls were more interested in the bad boys as opposed to an A student like me... And the same holds true with cars - there's something about a street rod with a booming stereo that appeals to many teens... and the same thing holds true with Cars... One of the favorite group of Cars from the first movie is the Tunerz - Boost, Snot Rod, DJ, and Wingo... if it weren't for the Tunerz causing Mack to drift off to sleep, McQueen wouldn't have fallen out the back of Mack's trailer... and we wouldn't have had the movie that was Cars... In this article, we'll look at the Tunerz.
Desert Back Cars
All 4 of the Tunerz were released in the Desert Back series... Wingo and DJ were released as singles in both the Desert Back 12 and Desert Back 16 series... Boost and Snot Rod was released as a Movie Moments (two pack) in the Desert Back series.
DB12:
DB16:
Movie Moments:
As I didn't collect the Desert Back Cars until long after Mattel had moved onto other cardbacks, I bought several of these on eBay... Other than Lizzie and Sarge, the Tunerz commanded a hefty price premium.
Supercharged Tunerz
All 4 Tunerz were released as singles during the Supercharged series... I do not have DJ or Boost singles on the Supercharged cardback...
The Boost and Snot Rod Movie Moments was released on the Supercharged series... I'm not sure if I still have this one in my collection.
World of Cars Tunerz
All 4 of the Tunerz were released as singles in the World of Cars series... Snot Rod was released in case B... Boost and DJ were released in case C... Wingo was released in case D.
As you see in the above photo, the Boost and Snot Rod Movie Moments was also released on WOC cardback... and as you may be starting to guess, I tended to buy every release of every Tunerz Car on every cardback.
I even bought some of the Tunerz on the Lane Mates (short card) cardback... Here's Wingo:
Looking back, I wish I would have taken photos of all my Cars before I opened any of them... but I didn't.
I mentioned I bought the Tunerz on every cardback... here's a photo showing DJ, Boost, and Wingo on International WOC cardback:
I love the names... Spoilo - what a great name for a bad Car... Thank you, Rippers, for all the International cardback Cars you sent me in trades...
Race O Rama Series
The Tunerz were also released in the Race O Rama series... I got several of them on the International ROR cardback as well as on the US cardback... In fact, during the ROR series, a variation of the Tunerz were released with an accessory... Yes, we saw Impound Boost, Impound Snot Rod, Impound DJ, and Impound Wingo.
I also have all but Impound Wingo on international cardback - Mattel never released the ROR case F featuring Chase Impound Wingo on international cardback... Dadgum...
There was also one very rare Impound Car that I don't have in my collection... Impound Lightning McQueen and Impound Boost were originally released with confetti on the blister... then Mattel switched to blisters without confetti... a few Impound Snot Rod with confetti were released - all mine have no confetti on the blister... the last time I checked, which has been a while, Impound Snot Rod with confetti was going for well over $100.00.
Night Skyline Series
There was only one release of a tuner with fixed eyes as a single during the Night Skyline series... Chase DJ with Metallic Paint was released... The above photo shows an opened Chase DJ with Metallic Paint and Boost with lenticular eyes... I may or may not have more of the Tunerz as lenticulars; if I find them, I'll add photos.
The Lenticular Boost on the Night Skyline is actually one of the first versions of Boost with a correct paint job on the rear of the Car... it's supposed to be black - it was mauve during most of the earlier releases.
Here is a photo of the Boost/Snot Rod Movie Moments on the Night Skyline cardback:
(Photo used by permission of pirelliboy... thank you, pirelliboy)
Other Tunerz releases
There were a few other releases of Tunerz in the Night Skyline Series... the above photo shows the Toys R US exclusive Radiator Springs Chase Gift Pack with the Tunerz and Sheriff... I bought one in a store because it was new and I had money to spend... I received a second one from a website purchase that was supposed to be the 5 pack featuring Lizzie... The 5 pack does go for pretty good money on eBay these days.
There was also a great 4 pack released at Walmart on Black Friday 2010... a 4 pack of the Tunerz... It was $10 on Black Friday (the Friday after Thanksgiving)... later, it and the other 2 4 packs went down to $5.00 each... The Tunerz was definitely the most popular of the 3... I wish I'd have bought more of them.
This release of the Mack Transporter was probably the most popular one due to including 3 of the 4 Tunerz... For $19.99 plus tax at Walmart, you got Mack and 3 of the 4 Tunerz... Towards the end of the run, we saw this same set discounted to $10.00 and then $5.00... GOMATERGO and I bought 40 of these at our Walmart and donated them to what was the Cars Cares charity headed by indykjt and is now Nathan's Playroom... Many of these were sent as part of care packages to children in need or to support siblings of children in need...
Disney Store Tunerz:
I tend to collect basically the Mattel Cars... however, I will occasionally buy Disney Store Cars items if I really want them... The Disney Store Light Up 2 packs of the Tunerz were ones I really wanted; the light up neon looks cool...
Cars Mini Adventure Tunerz:
I also bought the Tunerz 2 packs in the Cars Mini Adventures product line; I talked about this line in the article at:
http://www.pixarcarsdiecast.com/foru...ini-Adventures
I recently obtained an international carded Mini Adventures Boost/Snot Rod in a trade from pirelliboy:
Some of the Tunerz have also appeared in other boxed sets... MarknotaMack recently got the 10-Car Value Pack and posted a photo under the Recent Finds - May 2012 thread... and there's a great Super 6 set that includes Rollin Bowlin Mater and Wingo: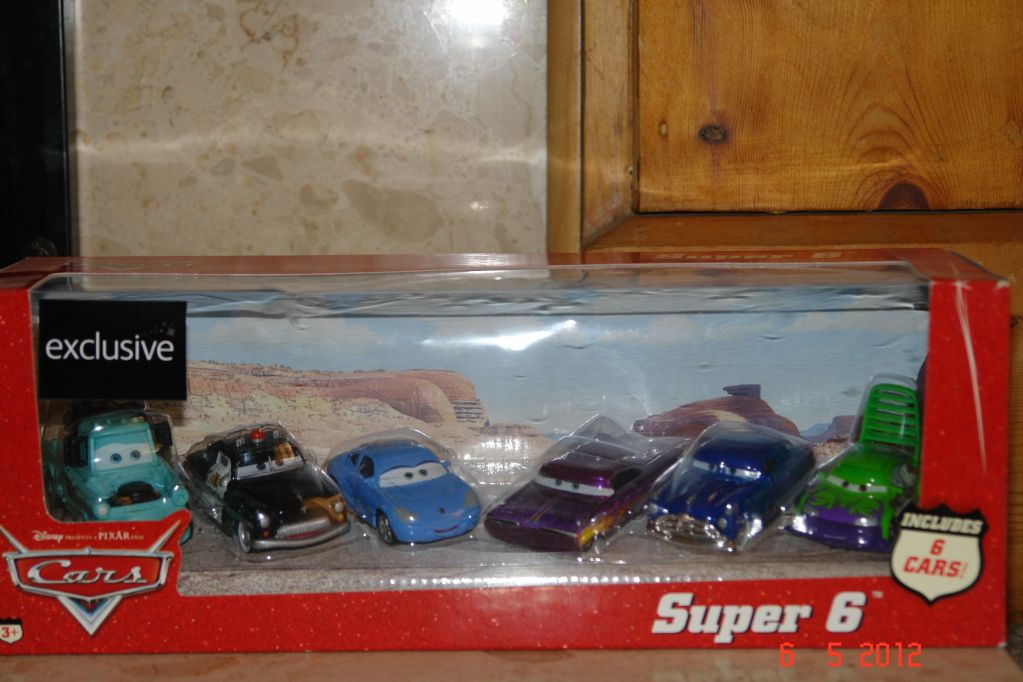 (Photo used by permission of djjd21... thank you, djjd21)
Here is a photo showing the opened Impound Tunerz:
I like the Tunerz... a lot... and I think many of you do too... My grandchildren enjoyed playing with the Tunerz... they'd have Sheriff chase the Tunerz and then have Mater tow them to his yard for impound... We've probably gone through a couple sets of them by playing with them.
A great scene towards the end of the movie showed the Tunerz pulling Bessie as they were paving a street in Radiator Springs... I know of a a great custom that shows this scene and will see if I can add a photo... Update: Here's a great photo from GotFrank:
(Photo used by permission of GotFrank... thank you, GotFrank).
I know we have many members who play musical instruments and can carry a tune... I suspect most of you can also carry a Tunerz...
As always, thanks for reading... On behalf of the administrators and moderators of PixarCarsDiecast.com, we appreciate your comments and your feedback...
And I'm going to go ahead and start one of our Anniversary contests early... everyone who posts a comment about this article and as part of their comment mentions which of the Tunerz is your favorite and why, will be entered in a random drawing to win a single Cars diecast... only one winner for this article... the deadline to enter this contest is Monday May 21, 2012... the drawing will be later that week.
Chris