How to use services like photobucket.com to host and post pictures for the forums.
A very common question on forums is how to post pics and photos into a post so that they show up without having to be clicked. Most members are using an image hosting service like Photobucket.com.

First you will need to register an account with photobucket, it's free and quick.
Once you have an account, log in..
Once logged in you will be taken to your album page. Near the top of the page is where you will upload your pic. Make sure you have saved the picture you want to post to your computer in a place you can find it. Hit the browse button and find the pic on your computer.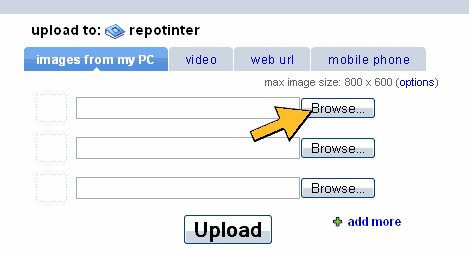 Once you find it, click on it so that it's name appears in the window next to the open button, then hit "open".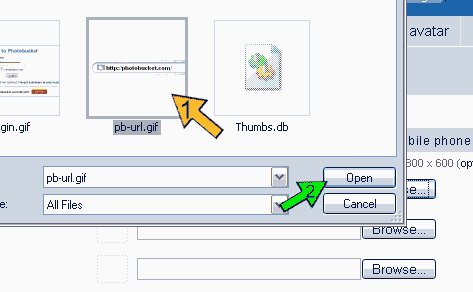 Now you are ready to upload the pic, so hit the big, shiny upload button.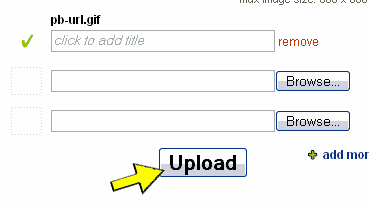 Once uploaded the picture will appear in your album (same page we uploaded at) as a thumbnail (small representation of the picture itself) with 3 lines of code underneath. Select the code that starts with [IMG]. Highlight the text and then hit Ctrl+C to copy the text to your clipboard...
Start your post on the forum and wherever you would like the photo to show up, hit Ctrl+V to paste the code...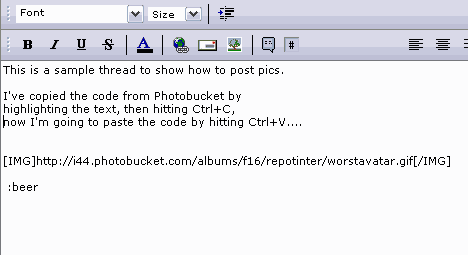 Once you have posted the image shows as normal:
So there you have it, an illustrated guide on how to host and post pics on the forum, enjoy.